As a class of nucleic acid molecules with short sequences, oligonucleotides are essential tools for regulating gene expression in life science and biomedical research. BOC Sciences provides you with high-quality and high-yield oligonucleotide conjugation through state-of-the-art synthesis platforms and expertise in oligonucleotide conjugates. According to strict quality assurance and quality control standards, BOC Science produces oligonucleotide modification and conjugation services with an extremely high degree of purity.
Oligonucleotide Bioconjugation
Introduction
The common thrust of oligonucleotide bioconjugation methods is to facilitate interactions between the conjugate and its corresponding cell surface receptor protein, leading to subsequent internalisation via receptor-mediated endocytosis, resulting in targeted drug delivery to specific tissues or to specific cell types within tissues. Bioconjugates interact with cell type-associated receptors to enable targeted drug delivery to specific tissues or specific cell types within tissues.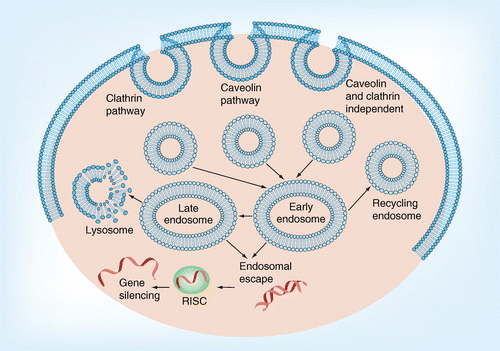 Fig. 1 Uptake routes of oligonucleotides conjugates. (Winkler, 2013)
Service Descriptions
Material: Oligonucleotides and wide choice of target molecules (antibody, peptide, aptamer and etc.)
Flexible synthesis scales
Quality: QC analysis by MS, HPLC, or PAGE
Delivery: Typical delivery is lyophilized samples in individual vials that are fully labeled
Advantages
Gene diagnostics
Cancer therapy
Molecular probes
PCR primers
Molecular tags
etc.
References
Winkler; et al. Oligonucleotide conjugates for therapeutic applications. Therapeutic Delivery. 2013, 4(7): 791-809.
Gooding M; et al. Oligonucleotide conjugates - Candidates for gene silencing therapeutics. Eur J Pharm Biopharm. 2016 Oct; 107: 321-40.