BOC RNA provides customized research and GMP-grade mRNA, with a flexible production scale from milligrams to grams to meet the various needs of researchers.
mRNA has been widely used in the study of gene function, and popular in the development of new therapeutic strategies for cancer immunotherapy and preventive vaccines. BOC RNA has been an industry leader in custom mRNA synthesis for research and clinical applications. Our service enables researchers to synthesis and introduce mRNA modifications to generate transcripts suitable for downstream applications.
Features of our custom mRNA synthesis services
Free codon optimization service
mRNAs with length ranging from ten to hundreds of bases
Customize research-grade or GMP-grade mRNA
Extensive mRNA synthesis scale and modified bases
Multiple purification techniques, such as liquid chromatography separation, silica gel purification, and high-performance liquid chromatography
Standard analysis service packages
Scalable standardized process
Sterility and bioburden control
Our ability
BOC RNA is equipped with various scales of automatic synthesizers, advanced purification equipment, and has a wealth of mRNA synthesis experience. We have prepared a complete set of mRNA synthesis and purification technology to provide high-quality mRNA products. All products are produced under strict quality control standards and are identified by mass spectrometry and purified by HPLC.
What we need from customers
When ordering mRNA synthesis service, please provide information, such as mRNA sequence, gene name or gene sequence, the required 5' and 3'-UTR sequences, and other requirements that need to be considered (including other modified base specifications, such as s5-meC, pseudouridine (ψ) or any other base).
Workflow of custom mRNA synthesis service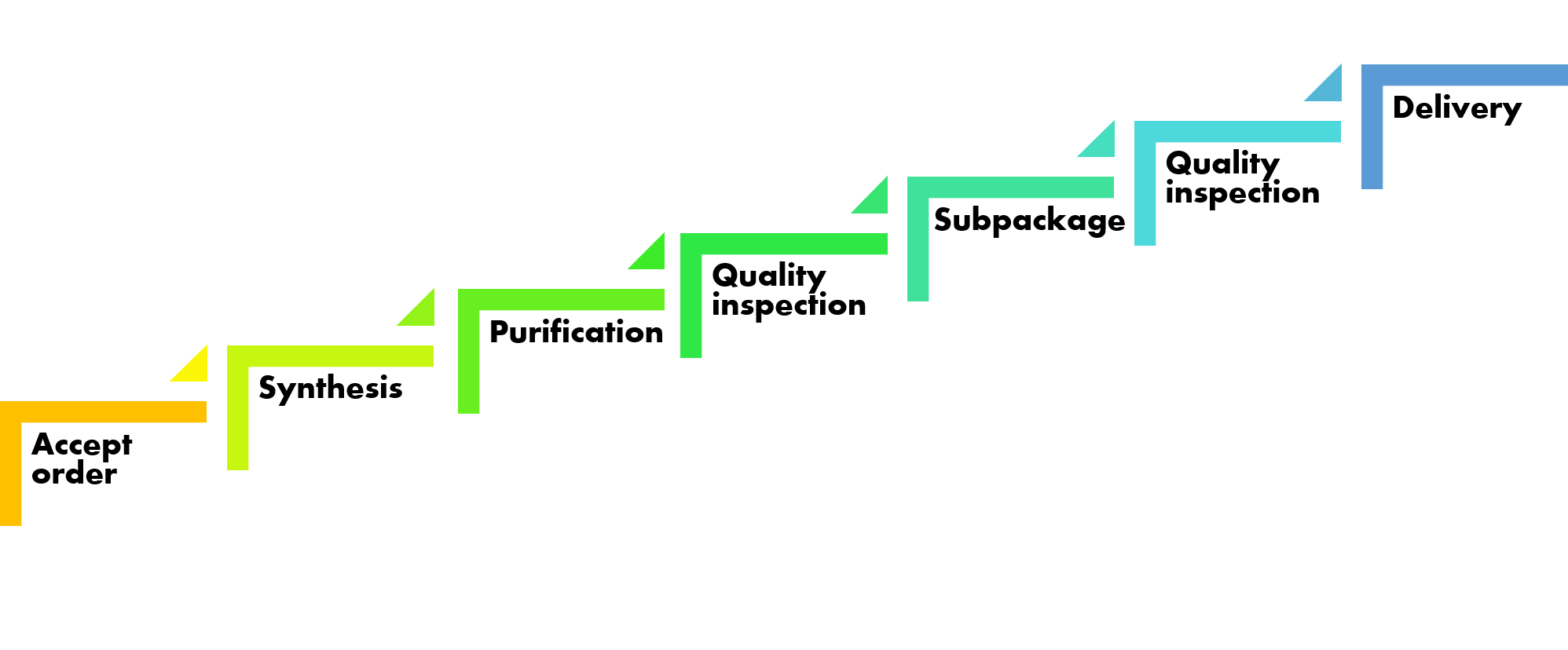 Competitive advantages
Flexible synthesis scales: 20 nmol, 50 nmol, 100 nmol, 200 nmol, 1 µmol, 5 µmol, and 10 µmol. Bulk orders are available upon request.
Experienced team: scientists and staff with over 15 years of experience in oligo synthesis and modifications.
Customized GMP-level mRNA synthesis for your vaccine needs.
High purity: Purification by PAGE or RP-HPLC upon request.
High quality: QC analysis by MS, HPLC, or PAGE.
Competitive prices.
Fast delivery.
BOC RNA also provides professional support in the design, production, and evaluation of mRNA vaccines.
Contact us now to get technical advice and more information. Our technical support team will respond to your questions or provide a quotation soon.