DNA/RNA can co-exist with many sensitive organic functional groups. Examples of such groups include alkyl halides, benzyl halides, allyl halides, α-halo amides, esters, activated esters, carbonates, thioesters, tosylates, sulfonic esters, sultones, phosphates, α, β-unsaturated carbonyls, epoxides, aziridines, maleimides, vinyl arenes and methides. However, DNA/RNA analogs containing these groups are not accessible using technologies on the market. The reason is that those technologies use acyl groups for amino protection, 2-cyanoethyl groups for phosphate protection, and ester groups as cleavable linker. These protecting groups and linkers have to be deprotected and cleaved under harsh conditions, under which, the sensitive groups cannot survive.
Shiyue Fang's group from Michigan Technological University developed the sensitive DNA/RNA synthesis using Dim-Dmoc technology. We collaborate with his group to help our customers to realize the sensitive DNA/RNA synthesis and extend this technology to more application areas.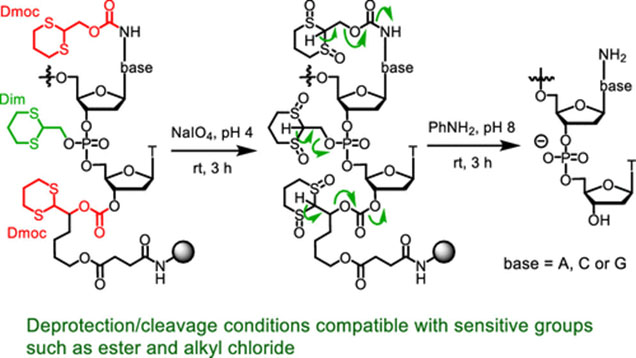 The novel phosphoramidites use new amino and phosphate protecting groups. Oligo deprotection is achieved under mild conditions at pH4-8. No strong base and nucleophile are needed. Thus, they are useful for the synthesis of oligos containing sensitive groups. Shiyue Fang's group has shown that alkyl halides, alpha chloro amides, thioesters, and alkyl and phenyl esters can be incorporated into oligos using them. Testing to incorporate many other sensitive groups such as maleimides and epoxides is in progress.