BOC RNA specializes in early RNAi drug discovery and development services. With our state-of-the-art production equipment and years of comprehensive experience in complex API coupling technology, we can produce technically challenging but safe and effective siRNA conjugates. BOC RNA can provide custom multimeric polymer-siRNAs of varying purity and scale depending on the intended application. We will work to meet your needs for new conjugates that will be quickly and cost-effectively added to your siRNA with powerful features and confidence.
Features and advantages
| | |
| --- | --- |
| High quality | Cost-effective |
| All siRNA conjugates undergo stringent quality checks before shipment | Very competitive pricing for bulk and repeat orders |
| Leading research institute, well-known siRNA delivery solution provider for pharmaceutical/biotech companies | High guaranteed output; average delivery rates are usually significantly higher |
| Excellent technical support | User-friendly online ordering system |
| Trained scientists with a background in molecular biology and biochemistry will be happy to support you (from 9 am to 6 pm) | New and easy-to-use online ordering, and other useful tools (for example, order tracking and history, easy search and reorder options) |
Why use polymer-siRNA conjugate
Due to its high hydrophilicity, the delivery efficiency and bioavailability of siRNA are poor. Combining with polymers (especially PEG) can extend the half-life of drugs in the blood and enhance pharmacokinetic properties.
For polymer-siRNA bioconjugate systems, the potential to use multiple different components enables safe and effective delivery of siRNA to target cells. These basic ingredients include ligands for targeting, internal soluble components for endosomal escape, PEG chains that prolong blood retention, and potentially hydrophobic lipids.
What are the types of polymers?
| | | |
| --- | --- | --- |
| | Polyethylene glycol (PEG) | |
| | | |
| | | |
Advantages of polymer-mediated siRNA delivery
Simple chemical modification
Good biocompatibility
Versatility
Fusion with inorganic materials can solve various obstacles related to effective siRNA delivery.
Integrating various functions into a polymeric siRNA delivery system may have profound implications for biomedical research and is expected to revolutio">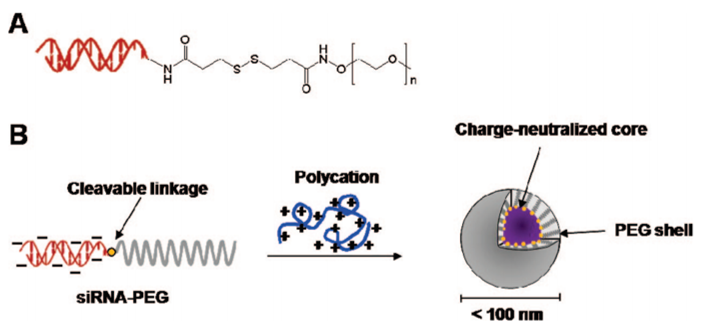 Figure1: A. Structure of PEG-siRNA conjugate; B. Formation of PEC micelles from the interactions between PEG-siRNA conjugate and a polycation (Jeong, J. H. 2009).
References:
Jeong, J. H. et al. siRNA Conjugate Delivery Systems. Bioconjugate Chemistry. 2009; 20(1):5–14.
Loczenski Rose V. et al. Polymer siRNA conjugates synthesized by controlled radical polymerization. European Polymer Journal. 2013; 49(10): 2861-2883.
Kaushik Singha. et al. Polymers in Small-Interfering RNA Delivery. Nucleic Acid Ther. 2011; 21(3):133-147.