A new era in siRNA drug development is now underway, thanks to advances in RNAi technology. With impeccable expertise, BOC Sciences is committed to providing siRNA drug design and in vivo delivery solutions for drug development, solving our clients' research challenges.
About Dynamic Polyconjugates
The ability of siRNAs to silence specific genes has generated significant interest in their use as research tools and therapeutic agents for diseases including cancer, infectious diseases, and metabolic disorders. siRNAs for effective delivery to appropriate target cells in vivo are an important component of these siRNA-based applications. Therefore, a variety of non-viral and viral systems are being developed for the delivery of siRNA to the liver, tumors, and other tissues in vivo. To avoid delivery of siRNA to a large number of non-target cells in the liver, researchers have used maleic anhydride to modify the amine groups of amphiphilic poly (vinyl ether), called PBAVE, to form acid-unstable maleic acid bonds. These bonds are cleaved in the acidic environment of endosomes, exposing the drug's amine and activating its endosomal solubility. The delivery vehicle is named siRNA dynamic multi couple to indicate that the siRNA, shielding agent, and targeting ligand are reversibly coupled to the polymer and that the endosomal solubilization properties of the polymer are triggered by its chemical environment.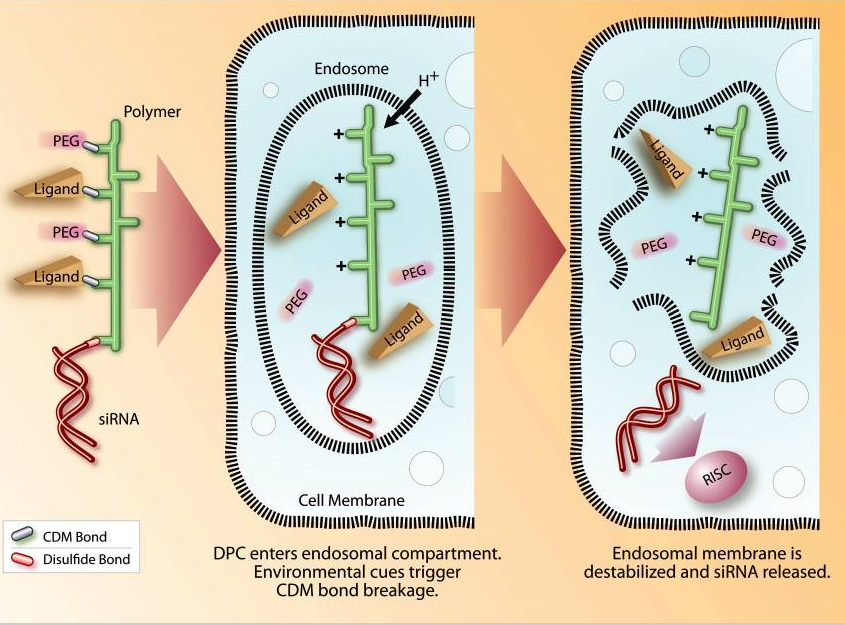 Fig.1 Schematic showing the siRNA Dynamic PolyConjugate, its cellular uptake, disassembly in the low pH environment of the endosome, and release of the siRNA into the cytoplasm of the target cell. (David B. Rozema, 2007)
The advantages of Dynamic Polyconjugates
No hepatotoxicity
Excellent tolerance
Modular platform system where many different elements can be adapted to enable siRNA delivery for a variety of purposes
Application of Dynamic Polyconjugates
Liver delivery
Extra-hepatic delivery
New subcutaneous format
Our services
Platform with custom siRNA synthesis

A variety of different chemical modifications and fluorescent labels
Flexible synthesis scale from 0.015 µmol to > 10 µmol
Quality control by analytical HPLC, mass spectrometry

Dynamic Polyconjugates

Synthesis of PBAVE
Synthesis of siRNA polycouples: connecting siRNA and PBAVE polymers with disulfide bonds
siRNA-polymer conjugates modification:

PEG or NAG molecules
Carboxydimethylmaleic anhydride (CDM)
Maleic anhydride derivatives
Reversible modifications

Characterization of Dynamic Polyconjugates
Our capabilities
Platforms with various types of customized services
Multiple design features
Reversibly linked cellular receptor ligands
User-friendly price and excellent reproducibility
Strict QA and QC
Rush service is available
1 on 1 customer service
With our extensive experience in RNA-related products and services, we are confident that we can help you overcome any upcoming challenges. Our experts are fully equipped to meet your specific needs. With our services, we hope to streamline and accelerate your drug discovery and disease treatment research efforts. Feel free to contact us!
Reference
Rozema D B.; et al. Dynamic PolyConjugates for targeted in vivo delivery of siRNA to hepatocytes. Proceedings of the National Academy of Sciences of the United States of America. 2007, 104(32): 12982-12987.