DNA/RNA can co-exist with many sensitive organic functional groups. Examples of such groups include alkyl halides, benzyl halides, allyl halides, α-halo amides, esters, activated esters, carbonates, thioesters, tosylates, sulfonic esters, sultones, phosphates, α, β-unsaturated carbonyls, epoxides, aziridines, maleimides, vinyl arenes and methides. However, DNA/RNA analogs containing these groups are not accessible using technologies on the market. The reason is that those technologies use acyl groups for amino protection, 2-cyanoethyl groups for phosphate protection, and ester groups as cleavable linker. These protecting groups and linkers have to be deprotected and cleaved under harsh conditions, under which, the sensitive groups cannot survive.
A newly reported technology using the Dim-Dmoc phosphonamidites 1a-d and Dmoc supports 2a-d which is developed by Shiyue Fang's group can be used for sensitive DNA/RNA synthesis. The DNA/RNA synthesized with these materials can be represented with 3. Deprotection and cleavage can be achieved under mild conditions at pH 4-8 using a 2-step protocol to give the intermediate 4 and then the fully deprotected DNA/RNA 5. Therefore, the new technology is universally useful for the synthesis of DNA/RNA containing a wide range of sensitive groups. It has been demonstrated that DNA/RNA containing the sensitive alkyl esters, phenyl esters, thioesters, alkyl halides, α-halo amides and chloropurine as represented by 6a-f can be readily synthesized using the technology. Analogs containing the other aforementioned sensitive groups as represented by 6g-k are expected to be accessible as well. Importantly, this technology can also be extended fore for the synthesis of sensitive RNA analogs as represented by 6l-o.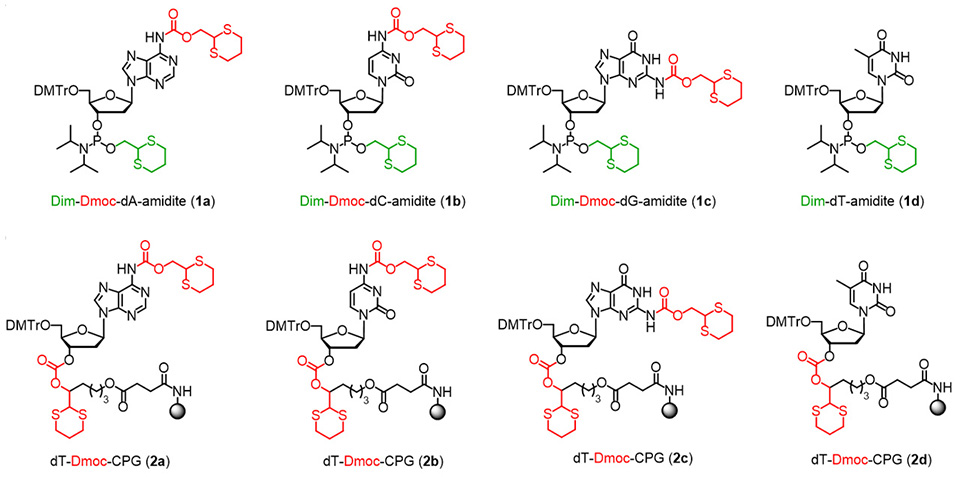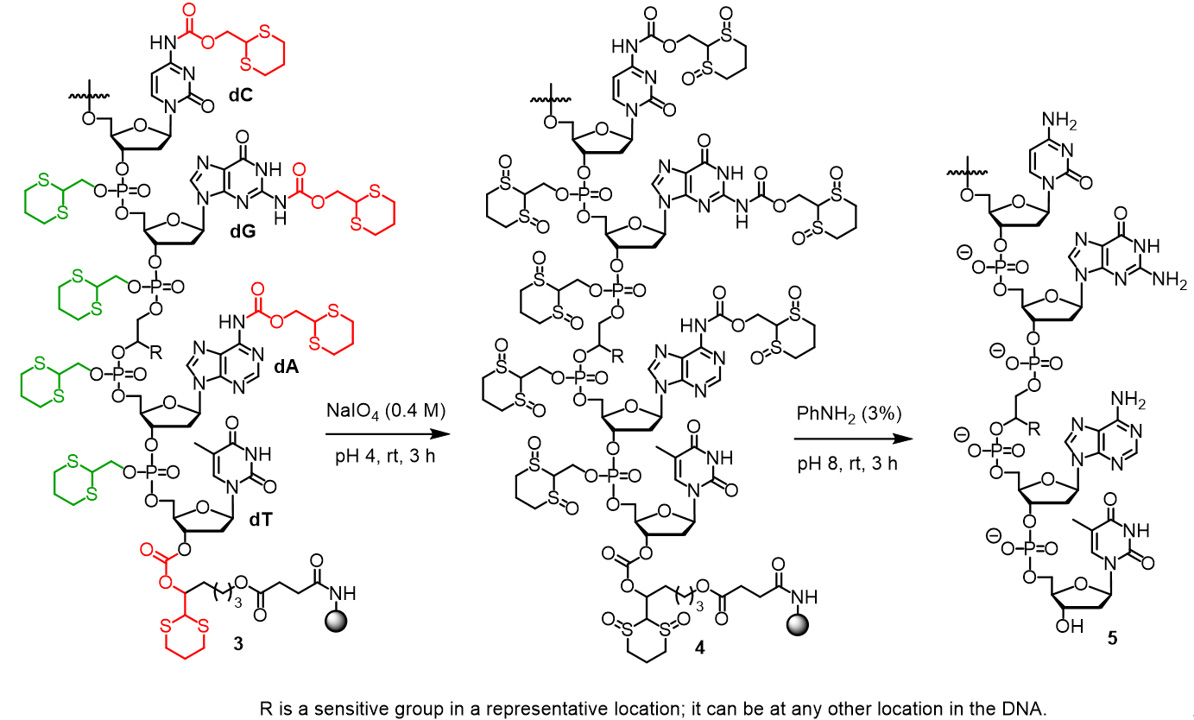 Sensitive DNA/RNA analogs accessible with the Dim-Dmoc technology can find applications in four areas. One area is the development of DNA/RNA cross-linking agents for antisense drug and DNA/RNA-based disease diagnosis applications. The other is the study of protein interactions. The third area is the study of origin, function, fate, disease association and other aspects of naturally occurring sensitive DNA/RNA analogs. The fourth area is the use of mRNA to generate protein in vivo as medicines.
We can provide the Dim-Dmoc phosphonamidites and Dmoc supports for your sensitive DNA/RNA synthesis. Here are some sensitive noncanonical nucleosides which can be synthesized using this technology.
Ref:
Shahien Shahsavari, Dhananjani N. A. M. Eriyagama, Jinsen Chen, Bhaskar Halami, Yipeng Yin, Komal Chillar, and Shiyue Fang. The Journal of Organic Chemistry. 2019 84 (21), 13374-13383.