Synthetic DNA/RNA are important research tools in therapeutic DNA/RNA area.
There are four major chemical synthetic methods of DNA/RNA:
Contemporary H-phosphonate method
Phosphodiester method
Phosphotriester method
Phophitetriester method
In which, phosphitetriester method is commonly used for DNA/RNA solid-phase synthesis nowadays.
In phosphitetriester method, DNA/RNA chemical synthesis is carried out by a stepwise addition, the synthesis process contains four chemical reactions:
Step 1: De-blocking
Step 2: Coupling
Step 3: Oxidation
Step 4: Capping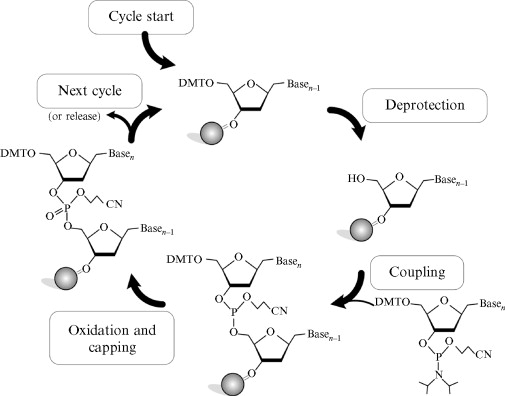 Figure 1. Oligonucleotide synthesis from phosphoramidites.
As DNA/RNA contain at least one -OH group, the introduction of the suitable protecting groups enables the oligo to convert to the respective phosphoramidite, and then it can couple the latter. Therefore, phosphoramidite coupling reaction makes phophoramidites the most important building blocks in DNA/RNA synthesis.
We can provide a variety of phosphoramidites for common RNA synthesis and sensitive DNA/RNA synthesis.
Why choose us?
Quick response for your inquiry
Experienced experts
Strict QA and QC
High guaranteed yields
Rush service is available
Completive price
Comprehensive analysis
Customized package
Easy ordering
Fast delivery
Ref:
Hughes, R. A., Miklos, A. E., & Ellington, A. D. (2011). Gene Synthesis. Synthetic Biology, Part B - Computer Aided Design and DNA Assembly, 277–309.